© 2013 Mountain Empire Children's Choral Academy
MOUNTAIN EMPIRE CHILDREN'S CHORAL ACADEMY
Monday, March 21 at 7:30The Highlands Youth Ensemble will perform its thirteenth annual Valentine Cabaret on Sunday, February 10 at 3:00 p.m. at the Gregory Center on the Milligan College campus, and again on Monday, February 11 at 7:30 p.m. at Barter Theatre in Abingdon, VA. These talented young singers will present "Blast from the Past" with a Cabaret show, a dessert reception, a silent auction with gift baskets, and a raffle. The dessert reception and silent auction begin one hour before show time.

MECCA's Artistic Director, Jane Morison says, "the title says it all! You will be treated to songs from yesteryear, with some particularly good 'stops' in the favorite decades of our audience. Don't be surprised to hear a song from your high school or college days, along with some great Broadway hits, and maybe even some TV or movie themes that will make you sing along!"

Morison also says that patrons should bring their checkbooks for the silent auction/raffle. "HYE's Valentine Cabaret is MECCA's biggest fund-raiser of the year. Our supporters are SO generous, both in donations of items to auction, and in support of all our programs. Our event grows every year, and this year's will be bigger and better than ever!"

Barter Theatre, Abingdon VA​
The Highlands Youth Ensemble will perform its thirteenth annual Valentine Cabaret on Sunday, February 10 at 3:00 p.m. at the Gregory Center on the Milligan College campus, and again on Monday, February 11 at 7:30 p.m. at Barter Theatre in Abingdon, VA. These talented young singers will present
"Blast from the Past"
with a Cabaret show, a dessert reception, a silent auction with gift baskets, and a raffle. The dessert reception and silent auction begin one hour before show time.
MECCA's Artistic Director, Jane Morison says, "the title says it all! You will be treated to songs from yesteryear, with some particularly good 'stops' in the favorite decades of our audience. Don't be surprised to hear a song from your high school or college days, along with some great Broadway hits, and maybe even some TV or movie themes that will make you sing along!"

Morison also says that patrons should bring their checkbooks for the silent auction/raffle. "HYE's Valentine Cabaret is MECCA's biggest fund-raiser of the year. Our supporters are SO generous, both in donations of items to auction, and in support of all our programs. Our event grows every year, and this year's will be bigger and better than ever!"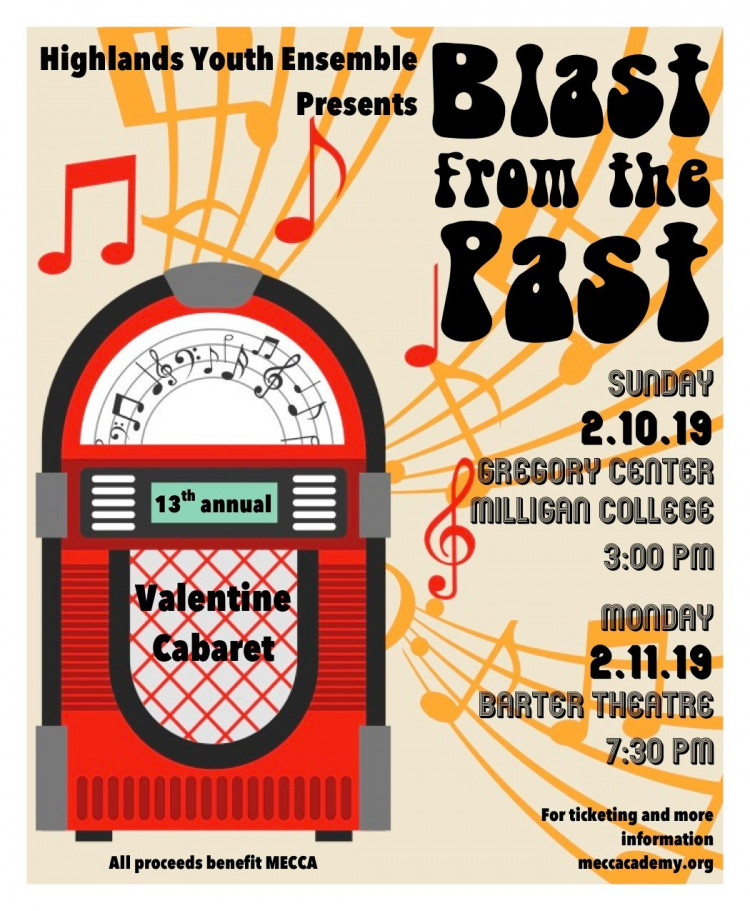 Online ticket sales are now CLOSED!
Tickets are still available at the door:
Sunday - Gregory Center at Milligan College
~ 3:00​ - show starts
~ 2:00​ - silent auction and dessert reception begin
Monday - Barter Theatre
~ 7:30​​​​​​​ - show starts
~ 6:30 - silent auction and dessert reception begin​